How To Reduce Stretch Marks
DISCLAIMER
This blog has not been approved by your local health department and is not intended to provide diagnosis, treatment, or medical advice. Read More

This blog has not been approved by your local health department and is not intended to provide diagnosis, treatment, or medical advice. The content provided on this blog is for informational purposes only. Please consult with a physician or other healthcare professional regarding any medical or health-related diagnosis or treatment options. Information on this blog should not be considered as a substitute for advice from a healthcare professional. The claims made about specific products throughout this blog are not approved to diagnose, treat, cure, or prevent disease.
In this article: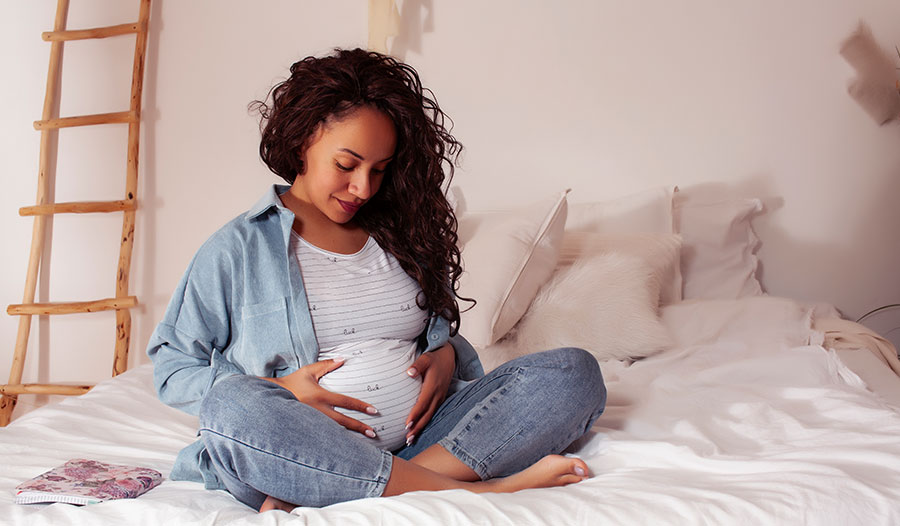 If you look around, many modern retailers, influencers, and social figures embrace stretch marks and the idea of body acceptance just as we are. And with good reason. While it might come as a surprise, it is believed that 50 to 90% of women have stretch marks somewhere on their bodies. And while not often talked about, males can experience these marks as well.
Stretch marks are a normal and expected part of life, from pregnant people to weight-loss success stories to those who have gained weight to those going through growth spurts (hello, puberty). It may even seem that stretch marks appear for no apparent reason at all.
Even though stretch marks are becoming more accepted in our society, there will always be people living with these marks that want to reduce their appearance. And that's perfectly okay! We are all in charge of our bodies and can honor, nourish, and protect them as we wish.
Thankfully, some powerful products on the market can help with this process gently and effectively. Keep reading to learn more about stretch marks, reducing their appearance, and the products suggested to do just that.
What Are Stretch Marks?
Believe it or not, stretch marks are scar marks on the skin caused by stretching. It's essential to keep in mind that—like scars—stretch marks require particular care and attention to reduce their appearance over time. According to the American Academy of Dermatology Association, this scarring happens when "the abrupt change causes the collagen and elastin, which support our skin, to rupture. As the skin heals, stretch marks may appear."
What Causes Stretch Marks?
In most cases, stretch marks are caused by losing or gaining weight too quickly. The abrupt stretching of the skin can cause these streaky marks to appear on your buttocks, stomach, chest, arms, or anywhere on the body changing or growing. Pregnancy, plastic surgery, puberty, weight gain, or weight loss can all increase your chances of stretch marks.
But, are some of us more predisposed to stretch marks than others, to begin with? Interestingly enough, it's believed that genetics can play a factor in your likelihood of earning tiger stripes, as well as the level of cortisol in your body. You know, that lovely stress hormone that's often too elevated for many? The amount of collagen in your skin can also influence stretch marks appearing on your skin— and to what extent.
Can You Get Rid of Stretch Marks for Good?
While there's no way to remove stretch marks from your skin permanently, you can rest assured that many will shrink and fade over time—especially when targeted with some of the products shared below. These powerful products can help reduce the appearance of your stretch marks; just make sure you use them consistently and with a bit of patience.
It's worth mentioning again that stretch marks are becoming more and more applauded within our society. Models on websites are no longer airbrushed when wearing bathing suits, and influencers on Instagram are making inspirational art from their stretch marks.
So, even if you can't entirely remove them, you can still reduce them and find comfort in knowing that many, many, many people around you have them, too.
What's the Best Way to Reduce Stretch Marks?
It's believed that the most important thing you can do to reduce the appearance of stretch marks is to keep your skin hydrated with nourishing lotions and oils. This method is effective because it helps keep the elastin in your skin from drying out and scarring your skin more severely.
So, the most simple and effective way to treat your stretch marks is to invest in a quality product that encourages moisture retention and make sure that you use it regularly.
Top Products Picks for Reducing Stretch Marks
In general, when looking for products that help reduce stretch marks, check the label for ingredients such as vitamin E, cocoa butter, shea butter, plant-derived oils, and other nourishing ingredients. These ingredients are known to help deeply nourish your skin and can help boost moisture retention, thus reducing the appearance of stretch marks when used consistently.
The five products rounded up below contain some of these ingredients—and more—to help make them as effective as possible. Ultimately, your skin will thank you for choosing such powerful products formulated with high-quality ingredients.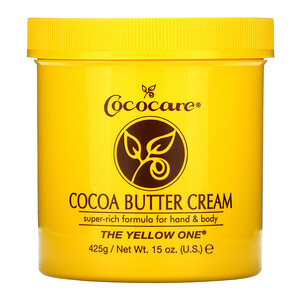 Cococare has made products to help soothe and reduce stretch marks for over 50 years. With an average user rating of 4.3 out of 5 and over 4,500 reviews, it's safe to say that real-life consumers love the Cocoa Butter Body Cream. As the name implies, this lotion is made with rich, all-natural cocoa butter that deeply nourishes and hydrates your skin without leaving it too greasy feeling.
For the best results and stretch mark reduction, it's suggested that you use this lotion daily in liberal amounts all over your body, paying particular attention to the area with stretch marks.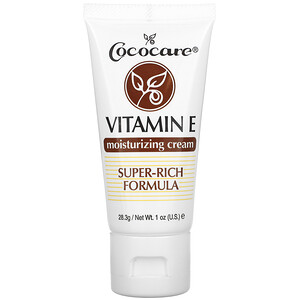 Formulated by the same company as the lotion mentioned above, the Vitamin E Moisturizing Cream is unique because it contains vitamin E—a naturally rejuvenating antioxidant known to reduce the appearance of stretch marks with use over time. With consistent use, you can expect your skin tone to become more even and intensely moisturized, which will help diminish the appearance of stretch marks on its own.
With over 6,000 user reviews and an average rating of 4.2 out of 5, one can assume that customers are overall satisfied with this product and its very approachable price point.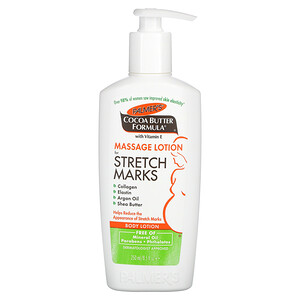 Palmer's prides itself on the quality of ingredients they use—all of which are not tested on animals—including cocoa butter, coconut oil, shea butter, vitamin E, and olive oil.
According to the manufacturer, when it comes to minimizing the appearance of stretch marks, you should opt for any product from their Palmer's Cocoa Butter Formula line, like the Massage Lotion for Stretch Marks formulated for pregnant mothers. It is a cult-favorite item (with over 13,000 customer reviews) for mothers-to-be to help reduce stretch marks and combat them from appearing in the first place.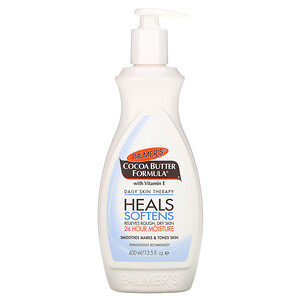 As mentioned above, vitamin E is a great ingredient to help with soothing stretch marks, and the Cocoa Butter Lotion with Vitamin E combines the best of both worlds—cocoa butter and Vitamin E—to provide intense moisturizing for optimal stretch mark reduction.
This lotion provides 24-hour deep moisturizing relief and is even dermatologist-recommended for those looking for a cocoa butter product. With over 10,000 reviews and an average rating of 4.6, it's one of the most-loved products on the market for stretch mark reduction. Plus, this product does not contain parabens or phthalates.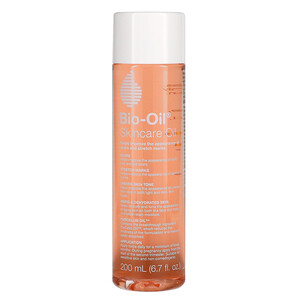 To round out the suggested products to help with the appearance of stretch marks, the Skincare Oil by Bio-Oil is one of the most unique on the market thanks to its "breakthrough ingredient" called PurCellin Oil™, which is thought to make the oil a thinner formulation. It's believed that the lighter the oil, the more easily it is absorbed into the skin, thus making it that much more effective in fighting stretch marks.
Unlike the other two products listed above, the makers recommend that you use this product twice daily instead of just once for a minimum of three months to best reduce the appearance of stretch marks. If you are pregnant, it's recommended to wait until the start of your second trimester to start using this product.
Also, it's worth noting that this oil has over 5,500 reviews and an average user rating of 4.5 out of five stars which makes it a solid recommendation for those looking for a nourishing, stretch-mark reducing option.
Consistency is Key in Reducing the Appearance of Stretch Marks
No matter which product you choose to help reduce the appearance of your stretch marks, make sure that you use it consistently and for a long enough duration. Many people quit their skincare regimen too quickly after getting frustrated with a lack of results, but they don't realize that lasting change to your skin takes time and consistency.
Also, don't be afraid to switch up your regimen if you think your skin might respond better to a different product. As you can see from the products listed above, there are many options available on the market, so keep experimenting until you find one that works best for you.
Ultimately, once you've found your favorite, do your best to remain patient with the process of reducing your stretch marks, and challenge yourself to find acceptance of your skin's new appearance in the meantime. After all, some of our stretch marks can tell the most beautiful and powerful stories of growth and transformation—it's all about your perspective.
References:
https://www.webmd.com/beauty/ss/slideshow-stretch-marks#:~:text=An%20estimated%2050%25%20to%2090,stretch%20marks%20during%20growth%20spurts

https://www.aad.org/public/cosmetic/scars-stretch-marks/stretch-marks-why-appear

https://www.mayoclinic.org/diseases-conditions/stretch-marks/symptoms-causes/syc-20351139