Wake Up Your Makeup
DISCLAIMER
This blog has not been approved by your local health department and is not intended to provide diagnosis, treatment, or medical advice. Read More

This blog has not been approved by your local health department and is not intended to provide diagnosis, treatment, or medical advice. The content provided on this blog is for informational purposes only. Please consult with a physician or other healthcare professional regarding any medical or health-related diagnosis or treatment options. Information on this blog should not be considered as a substitute for advice from a healthcare professional. The claims made about specific products throughout this blog are not approved to diagnose, treat, cure, or prevent disease.
In this article: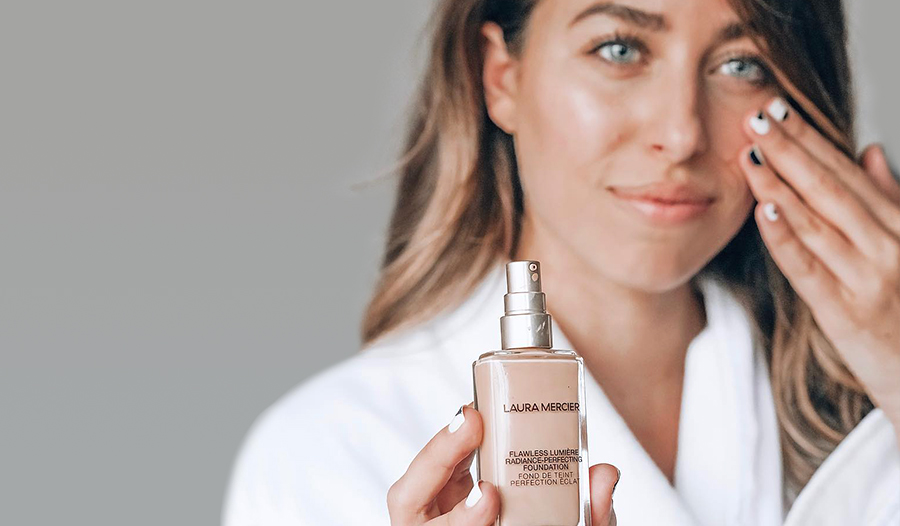 It's hard to rock confidence when you're feeling dull. I think we can all relate to a time when we've felt burned out, tired, and looked in the mirror to see sallow skin staring back at us. Our skin is constantly shedding dead skin cells but if we aren't taking care of ourselves or neglecting our skin, our complexion can take a hit and lack radiance which leaves us looking tired and even unhealthy—yikes!
Luckily, there are simple and easy steps that can make a big difference when it comes to brightening up. Since radiant, healthy, and glowing skin is never out of style, let's look at some ways we can bring that luminosity back into our faces and wake up our appearance.
‌‌‌‌First Things First: Hydrate
When it comes to radiance, I believe that our glow starts from within. Lack of hydration can cause a build up of dead skin cells on our skin which makes us appear dull, dry, uneven, and overall lacking a youthful glow. It's really important to make sure you are getting enough water intake throughout your day to keep from getting dehydrated. You may also want to try to reduce your alcohol and sugar intake.
It's also important to make sure you're eating well and taking supplements to support your radiance so you are not lacking any glow. Incorporating foods that are high in antioxidants like blueberries, healthy fats like avocados and walnuts, as well as omega-3s and vitamin C foods and supplements, will help nourish your skin from the inside out and help boost collagen growth along with battling free radical damage which can cause dullness in our skin.
‌‌‌‌Tweak Your Skincare Routine
To brighten your complexion, you first need to exfoliate the dead skin cells. Exfoliating will help create a fresh canvas and allow other products to infiltrate right into those pores to start brightening. This will help ensure that skin doesn't look gray. Be gentle with your exfoliation because doing it too much or using a technique that is too harsh will cause more harm than good. I suggest exfoliating your face and body one time per week with a mild exfoliant that is safe for sensitive skin and has soothing ingredients to decrease any irritation. It's also wise to avoid sun exposure and to apply a facial sunscreen right after exfoliating.
Secondly, it's important to focus on fighting free radical damage. Pollution is now said to be just as negative for our skin health as sun overexposure. Pollution and bad air quality can really affect our skin's appearance and even how it ages by causing inflammation which disturbs our skin barrier. Air pollution is worse in big cities, however, even in suburban areas we still need to protect our skin from the toxins in our environment. The number one effect of smog, artificial light, secondhand smoke, truck exhaust, and poor air quality is dull skin because these tiny airborne pollutants can get trapped in our pores and make our skin grayish and unhealthy.
One helpful way to reduce the damage is to incorporate an antioxidant into our routine. Antioxidants taken internally by supplementation or antioxidant skincare products help to neutralize and minimize the negative effects of pollution. Exfoliating, as I mentioned earlier, also helps clear out the pollutants that get stuck in our pores.
I also recommend getting an air purifier to help clean the air in your home. Blue light blocking glasses are super helpful in protecting our eyes and skin cells from artificial light that we are exposed to from too much screen time and use of electronics. This disrupts not only our skin's radiance but also our overall health. Drinking an antioxidant tea is another way to fight free radical damage and improve our wellbeing and skin's appearance.
Lastly, we already covered dehydration in our bodies but what about dehydrated skin? Without a good moisturizer, our skin is going to look like a dull and deflated balloon. I like to suggest to my clients a moisturizer formulated with hyaluronic acid to fill it back up and get that dewiness back into our skin. A product with hyaluronic acid, ceramides, and niacinamide will help repair skin barrier function and boost our skin's water retention. Make sure you are applying your moisturizer in gentle movements stroking upward to boost circulation and stimulate blood flow which will make your skin look healthy and nourished.
Another way to boost blood flow and circulation is to use a jade roller. Jade rollers help increase skin cell rejuvenation and stimulate the lymphatic system in our faces, which will reduce facial bloat and water retention. I like to store my jade roller in the refrigerator so it has a cool compress effect, which instantly wakes me up in the morning and limits any puffiness I have going on. Jade rollers are also a fantastic way to amplify your skincare product's effectiveness. Make sure to move in an upward and outward direction with your roller.
‌‌‌‌Use Makeup To Wake Up
Some people love matte makeup, but to me, there is nothing better than radiant, glowing skin that looks alive and bright. Here are a few of my favorite tools and products for making skin look brighter.
When I have a client in my chair and we already prepped their skin, I like to start by giving them some eye drops. This will instantly allow their eyes to become whiter and brighter by reducing any redness they may have.
An eyelash curler is something I use daily on myself as well as all of my clients. A lash curler gives your eyes an instant lift, making your eyes appear bigger and awakened. I like to curl the lashes before applying mascara. When applying, I like to start at the base of the lash line and wiggle the applicator at the tips to really open the eyes.
Foundation is a staple when creating a brighter, even toned, skin look. I suggest avoiding foundation products that are formulated to appear matte and stick with foundations that are luminous. Laura Mercier Flawless Fusion is one of my favorites. It color corrects, which evens out skin tone while leaving your skin bright and dewy with a radiant finish! You have to use a product that is color correcting to brighten up any dark or dull areas. I recommend using a damp makeup sponge to set the makeup by pushing it into your skin and bringing out some more glow.
Nothing exudes a glowing makeup application more than a flush of a rosy cheek. I love a cream blush to add a glow to the apples of the cheeks and you can use your fingers for an effortless application. You can even use a dab on your eyelids and lips to tie your entire look together.
You definitely don't want to skip out on a highlighter. This adds a nice luminosity and twinkle to your face making your skin look like it's shining from the inside out. I like to use a champagne color for fair-to-medium skin and a bronze tone when working with olive-to-dark skin tones. You can also apply this with your fingers to the top of your cheekbones, your cupid's bow, the corners of your eyes, and right under your brow bone for an incandescent glow.
To lock in your makeup, a facial mist can really set your makeup application and add a final glow-boosting finish. The best thing about a facial mist is that you can spray it on throughout the day for a quick freshener to add that extra gleam to your skin.
Say goodbye to dull complexions and hello to healthy, glowing skin with these tips and products!